I recently was invited to visit the headquarters of Paylocity in Chicago.  I have been evaluating vendors for clients as the primary business of my consulting firm, and have found Paylocity to be a very competitive vendor in terms of HCM capabilities, pricing, and references.
But in visiting their HQ, meeting many of the employees in various stages of customer and prospect support, it is apparent that their culture enforces their marketing – it is ALL about the customer, thereby accounting for why they have such a high customer retention in a very dynamic industry.
First off, they use their own platform, not unusual in this HR Technology sector, but the capabilities inherent in their product allows for significant employee communication and collaboration, employee recognition, and a tremendous ability to find resources (content and people) that can help to solve problems.
As I witnessed the passion expressed by the people I met when talking about Paylocity, the common theme was "how can I help".  That was evidenced by being asked, at every turn as I went through the building, "Can I help you?" and then following the person to where I needed to be.  It was not just a placation and a nicety, it was a culture.  Leave no one standing and waiting, provide the answer or take the problem to someone who CAN provide the answer and make the warm hand-off, and then make sure the customer is satisfied.
Throughout the building I saw their 5 Core Values, and the employees live that daily: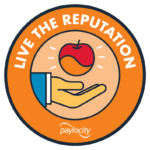 Integrity matters and we do what we say. We build trust intentionally, through every interaction – with clients, partners, and each other. We speak and act with honesty and transparency. We own every decision, personally and collectively.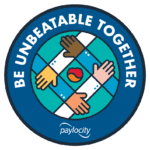 No one part is greater than the whole – no matter the role. "We" is what makes us different. We're intentional about silo-busting and flattening out hierarchies. We hear, affirm, inspire, and challenge one another.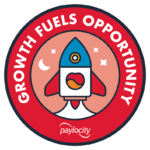 Continuous growth is essential. But it's not just about revenue. It's about maximizing success by realizing our greatest potential – personally, professionally, organizationally, and for our clients. It's about capitalizing on opportunity for growth.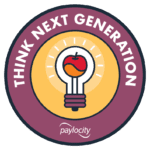 The ideal response to the status quo is a continual hunger for something better. We will celebrate our victories, but we cannot and will not camp out there. We were made for more. We will tap into our curiosity – everywhere and at all times.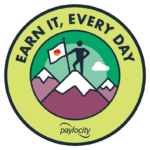 Greatness isn't bestowed, it's earned. That means challenging ourselves and one another to be better. Because we don't assume our competitors are satisfied either. We meet problems head on and push through. We put in work because that's what separates good from great.
I am sure that others will see what I experienced in interacting with the folks at Paylocity.  And if you have the chance and will be at the HR Technology Conference at the Venetian Hotel, Las Vegas, October 1-4, 2019, stop by and interact with the folks there.  And tell them, "Nov sent me!"